Information Technology Executive Institute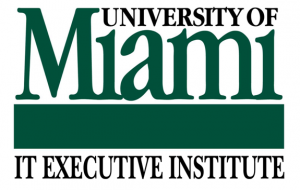 Magellan Associates is proud to offer our services and expertise as co-founders and faculty members of the University of Miami's Information Technology Executive Institute.
The Information Technology Executive Institute (ITEx) is a Center of Excellence in executive management with content and resources for C-level executives, (CEO, CFO, CIO, etc.) their direct reports, and aspiring leaders. ITEx combines IT and relationship management skills, theoretical concepts, and decades of practical experience in evolving technical and regulatory environments. Your  organization will benefit from the combined business education and industry expertise.
ITEx provides professional development coursework along with customer-site research to provide client -driven solutions tailored to meet each organization's needs.  Contact us to learn more about how our programs can position your management team to run IT like a business.